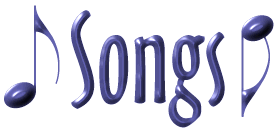 This page is designed to contain links to songs for which I've written both words and (most of the time) music. The majority of them fall into the category of "filk music", although not all of them do.
Click on a blue button

to get the materials available for a song. Additional materials will be made available as this page develops.
Filk
Song Title

Lyrics

Chords

Score

MIDI

Virtual Date

The Reader

The STNG Episode Guide

(Take Me Back to) Dragon's Egg

The Little Blue Man

The Great Nebraska Sea

This Filk is Ose

The Inner Light

"The Inner Light" theme

Prisoners of Time

One Filker's Week

to the tune of "One Week"

Don't Fall In Love with a Mermaid

Creatures Like Us

My Love was Like the Moon

Douglas Adams Tribute

The Heroes of Flight 93

The Engineer's Song

Hot Point, Warm Heart

Taken for a Ride

Barnardsed

Donnymere Glade

A Habitrail Named Klein

Another Sale at the Gun Store

Boundless?

If I Made a Wish

Lost Things

Proteins

Princesses of the Morning

Really, I Mean it This Time

Return of the Philosopher's Slayer

to the tune of "Copacabana"

Whoops!

Night Shift

>
Talkin' Tolkien

to the tune of "Talkin' Baseball"

What's Your Sign?

>
Credo

Namarië

Waiting Is

The Unsingable Filk

N/A